Tribal Water Management Videos
MSUEWQ worked with Salish-Kootenai College (SKC) and a student from the MSU Science and Natural History Film Making Program to produce two films about water issues in Indian Country. The first video focuses on water quality and the Clean Water Act and the second overviews Indian Water Rights.
Apsáalooke Tribe Water Quality Monitoring Training and QAPP Development
MSUEWQ has been working with Little Big Horn College (LBHC) since 2006 to provide water quality monitoring training for summer interns. In the summer of 2008, MSUEWQ worked with faculty and students at LBHC to draft a quality assurance project plan (QAPP) document to outline the monitoring that the interns conduct. The QAPP continues to be refined as the methods evolve and the capacity of the LBHC program develops.
Water quality monitoring efforts on the Apsáalooke (Crow) Reservation are conducted in collaboration with a number of partners including LBHC faculty and students, MSUEWQ, the Crow Tribe Environmental Program, the USGS, the MSU Microbiology Department, and the Crow Environmental Health Steering Committee.
Water Quality Education Capacity Building for Tribal Colleges and Hispanic Serving Institutions (HSI)
Water quality education has been identified as a need at tribal colleges and in Indian Country in general. However, tribal college faculty often lack water quality expertise and the extensive teaching loads which are typical at tribal colleges make developing new material daunting or impossible. To address this need, MSUEWQ worked with Salish-Kootenai College (SKC) and the Northern Plains and Mountains Regional Water Program to create a water quality teaching package for tribal college faculty. The package contains PowerPoint presentations with instructor notes, assignments, suggested readings, example tests. The teaching package is available at no charge to tribal college faculty and provides extensive materials for an instructor to build a water quality course or incorporate water quality lessons into existing science courses.
Water Quality Teaching Package
Introduction:
MSUEWQ worked with Salish Kootenai College and the Northern Plains and Mountains Regional Water Program to develop a water quality teaching package. The package provides materials to support a college level water quality course to enhance water science education capacity at tribal colleges. Included are a list of lessons, lesson summaries, 25 PowerPoint lesson presentations with instructor notes, 5 assignments, 3 test examples, a term paper assignment, a pre-test, a list of books and resources that may be used, and two videos with associated case study outlines. Lab activities will soon be added to the teaching package with detailed instructions on how to prep for the activity, how to perform the activity, materials needed, and homework assignments.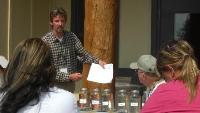 Getting the Package
If you are interested in obtaining a copy of the full teaching package, please contact us. We can electronically send files that include an outline of the teaching package and all of the lesson powerpoints, Word and Excel files for assignments, and videos.
Contact the Extension Water Quality program at: ExtensionWater@montana.edu or call 406-994-7381