About
During the fall of 2014 MSU Extension Water Quality launched a data collection and organization effort on Mandeville Creek, which runs through the Montana State University campus and the town of Bozeman, MT. In conjunction with MSU Facilities Services, the effort aims to better understand the impacts construction and best management practices (BMP's) have on Mandeville Creek as it flows through campus. Additionally, using the data collected to highlight the effects of urbanization on water quality, Mandeville Creek could serve as a case study for other urban watersheds in Bozeman, as well as elsewhere. Though the collection effort is focused on the MSU section of the creek, future projects will hopefully incorporate the rest of the creek and additional community partners.
---
Sites
The Granny's Donuts site is located at the culvert on the southern side of Lincoln St. This is where Mandeville Creek leaves an agricultually dominated area and enters MSU's campus.
The Roskie West site is the west culvert near the dormitory. At this point, Mandeville Creek has accumulated runoff from several parking lots and the Brick Breeden Fieldhouse.
The College Street site is located at the culvert on the southern side of College St, just west of 11th Ave S. This is where Mandeville Creek exits MSU's campus.
---
Projects
Ongoing Turbidity Monitoring - MSUEWQ
View the data for Mandeville Creek in the Data Hub
Enter data for Mandeville Creek into the Data Hub
2014-2015 Turbidity Monitoring Student Project - Logan Jackson
Turbidity is a measure of water clarity and how much the material suspended in the water column decreases the passage of light through the water. Suspended materials include soil particles (clay, silt, sand), finely divided inorganic and organic matter, algae, microbes, and other substances. In streams, increased sedimentation and siltation can occur, which can result in harm to habitat areas for fish and other aquatic life. Particles also provide attachment places for other pollutants, notably metals and bacteria. For this reason, turbidity readings can be used as an indicator of potential pollution in a water body. Turbidity can be useful as an indicator of the effects of runoff from construction, agricultural practices, logging activity, discharges, and other sources. Turbidity often increases sharply during a rainfall, especially in developed watersheds, which typically have relatively high proportions of impervious surfaces. The flow of stormwater runoff from impervious surfaces rapidly increases stream velocity, which increases the erosion rates of streambanks and channels. Regular monitoring of turbidity can help detect trends that might indicate increasing erosion in developing watersheds. However, turbidity is closely related to stream flow and velocity and should be correlated with these factors. Comparisons of the change in turbidity over time, therefore, should be made at the same point at the same flow.

The following graph represents turbidity samples taken over a two month period, from September 26th to November 25th. The Granny's Donuts sample site is located on the south side of Lincoln St. where Mandeville Creek flows through a horse pasture before entering the Montana State University campus. The Roskie sample site is just north of the Granny's Donuts site, next to the Roskie dormitory. Runoff from multiple parking lots and Brick Breeden Fieldhouse enter Mandeville Creek at this point. Right before Mandeville Creek leaves campus to the north is the College sample site. By this point the creek has collected water from the whole west side of campus, including parking lots, streets, detention ponds, and lawns.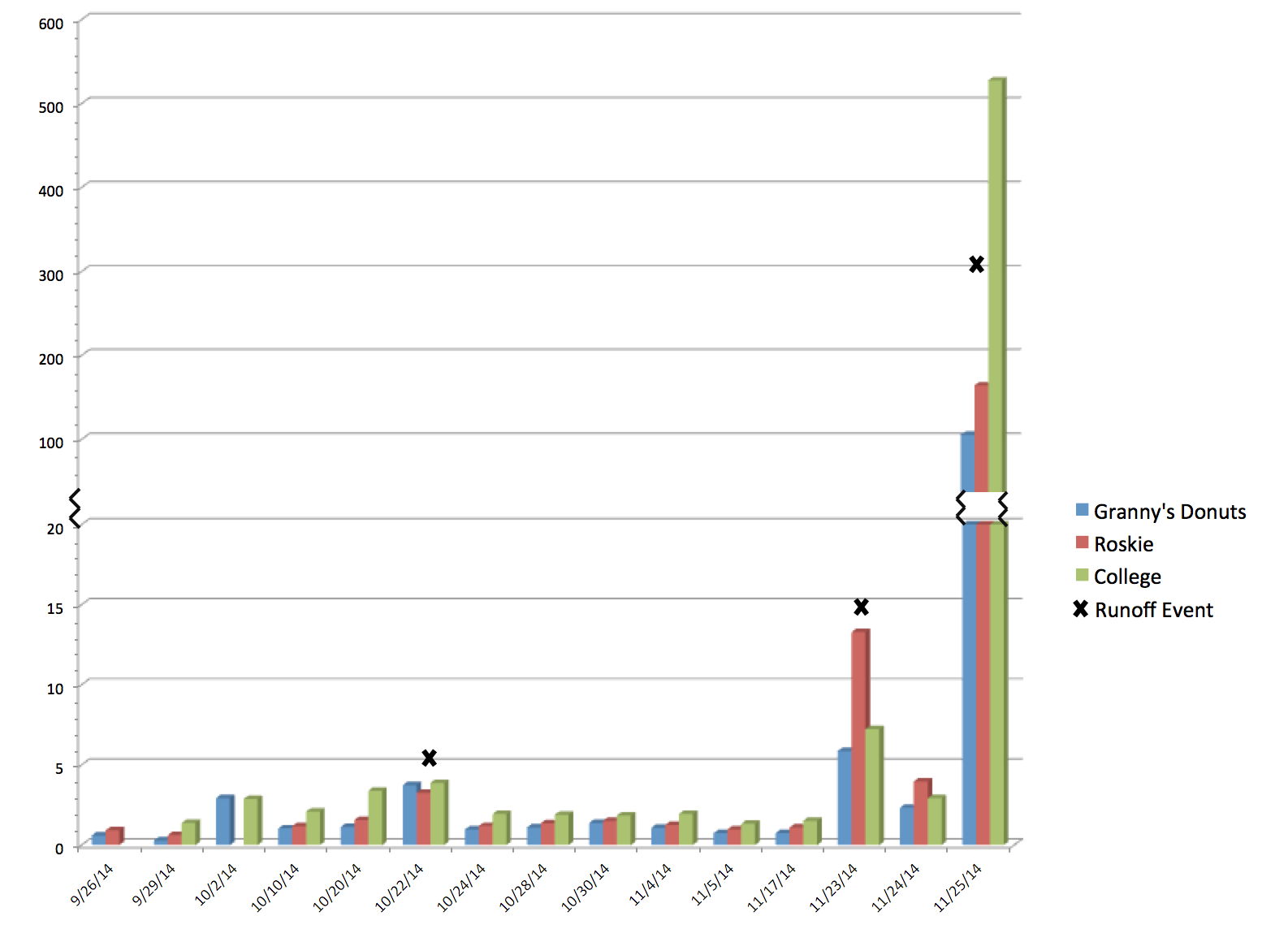 2008 Storm Water Runoff Water Quality Student Project - Jessica Ahlstrom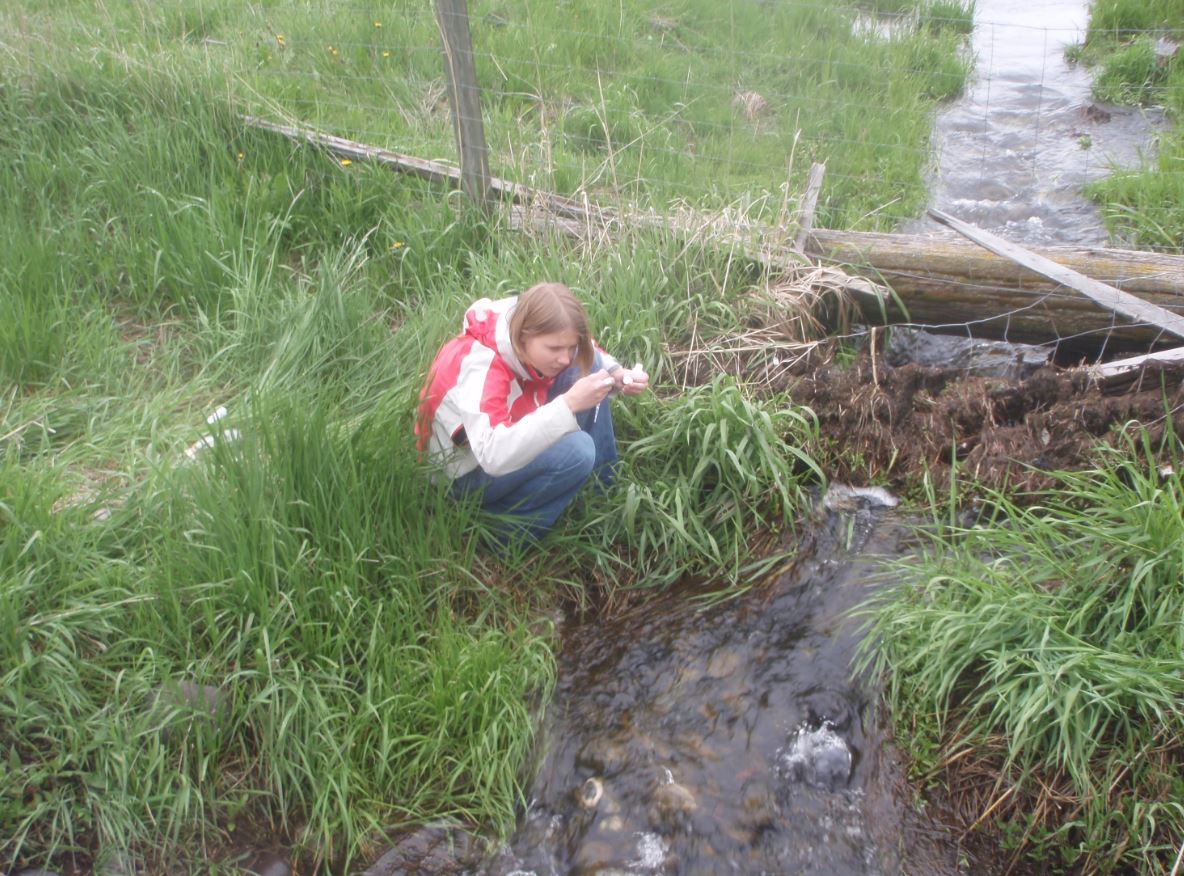 Jessica Ahlstrom was a student in LRES 344 (Water Quality) in spring of 2008 where she and 3 other students collected water quality data on Mandeville as part of a term project. Jessica continued this work in the summer of 2008 as part of the MSU Undergraduate Scholar Program under mentorship from Adam Sigler and Brian McGlynn. A poster Jessica put together for that work is available below. Click on the image for a larger view.